Tooth Uncovery
Bring down a tooth for Ortho treatment
Canine teeth ("eye teeth") often develop in the wrong position and so fail to erupt into the mouth. When you're looking at your child's smile, you may wonder – where is this tooth? If your child is in braces, you may be waiting for these canines to come in so they can be included in the braces treatment. Usually, the unerupted canine tooth is in the roof of the mouth or it may be positioned on the other side of the teeth, beneath the upper lip. To get this tooth moving, Dr. Hamal can do a tooth uncovery (tooth exposure) procedure to solve the problem. This is one of the great things about having orthodontic treatment at HealthPark Dentistry because our orthodontist and periodontist can easily cooperate together for the benefit of our patients.
Treatment
A tooth uncovery is a simple procedure. After the child is comfortable with laughing gas or topical anesthetic, Dr. Hamal, Periodontist will expose the tooth surgically. This takes less than 15 minutes. Next, the orthodontist will bond a metal bracket and chain to this tooth. Using this chain, Dr. Khan will slowly pull this tooth into position. It's actually an amazing procedure for how simple it is.
Sample of before and after an Uncovery Procedure
In order for the orthodontist to be able to move the canine tooth into the mouth with braces, it will first be necessary to expose the tooth surgically and bond a metal bracket and chain to the tooth. The orthodontist will then attach the chain to a brace and slowly pull the tooth into position.
Related Orthodontic Articles
Clear Orthodontic Aligners
The orthodontic treatment using clear aligners consists of a series of aligners that you change about every two weeks over a course of treatment lasting six to eighteen months depending on how much movement is needed… Read Article
Clear Aligners for Teenagers
Teens who regard traditional braces as restrictive, confining, and obstructive to their lifestyles now have another choice for orthodontic treatment: clear aligners. This advanced dental technology, originally geared toward adults, has recently evolved to treat a greater variety of bite problems in younger people. These improved orthodontic appliances can help teens function normally during a difficult phase of life… Read Article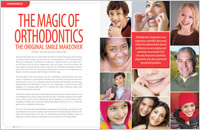 The Magic of Orthodontics
Proper alignment of the teeth is basic to "Smile Design." Their position dictates how they work together and affects the way you look and smile. Only orthodontic treatment can move teeth into the right position. Simply put, when things look right, they probably are right. Learn the basics of smile analysis and design and whether the magic of orthodontics will work for you… Read Article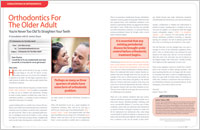 Orthodontics for the Older Adult
Healthy teeth can be moved at any age, so there's no such thing as "too old" for braces. In fact, nowadays about one out of every five orthodontic patients is an adult. Yet this figure represents only a small portion of adults who could actually benefit from orthodontic treatment… Read Article