Invisalign
Clear . . . Removable . . . Comfortable
Without bands, brackets or wires, Invisalign is a virtually invisible solution to straighten teeth. In fact, almost no one will know you are wearing them unless you tell. By using a series of clear, removable aligners that are changed about every 2 weeks, we gradually move your teeth toward the smile you've always wanted.
One of the new technologies you've probably been reading about is Invisalign. These clear removable appliances are made of thin plastic. They are comfortable, easy to wear and talk with, so even your friends won't even know you're having your teeth straightened.
There are even more advantages to Invisalign. You can take out the appliances to eat and brush and floss your teeth. The movement is so subtle that your teeth are seldom sore. The inside of your lips and cheeks don't have to " toughen up" to get used to the constant roughness of the metal brackets. Eat anything you want. No problems with broken brackets or loose wires.
Well if they're this good, why do people wear metal braces?
Some people forget to wear them ( or lost them), so treatment slows (or is stopped) – must be worn 20 hours daily.
Some cases are so involved that the strength and versatility of metal braces is required.
The cost of braces with invisalign is higher.
I really enjoy working with Invisalign. In fact, if you go to www.invisalign.com, you'll see that I am one of their recommended orthodontists for Troy Ohio Invisalign and Dayton Ohio Invisalign needs.
Related Clear Orthodontic Aligner Articles
Clear Orthodontic Aligners
The orthodontic treatment using clear aligners consists of a series of aligners that you change about every two weeks over a course of treatment lasting six to eighteen months depending on how much movement is needed… Read Article
Clear Aligners for Teenagers
Teens who regard traditional braces as restrictive, confining, and obstructive to their lifestyles now have another choice for orthodontic treatment: clear aligners. This advanced dental technology, originally geared toward adults, has recently evolved to treat a greater variety of bite problems in younger people. These improved orthodontic appliances can help teens function normally during a difficult phase of life… Read Article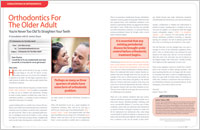 Orthodontics for the Older Adult
Healthy teeth can be moved at any age, so there's no such thing as "too old" for braces. In fact, nowadays about one out of every five orthodontic patients is an adult. Yet this figure represents only a small portion of adults who could actually benefit from orthodontic treatment… Read Article