Braces for Teens
Straight teeth for teens
Would you like to have straight teeth and a beautiful smile for your teenager? Braces solve many problems:
Crooked teeth – Braces improve your appearance
Reduce decay and gum disease potential
Improve chewing
Orthodontic braces also provide outstanding benefits:
Improved self-confidence and self-esteem (How do you feel when you smile?)
Lower dental bills
Protect your teeth from excessive wear and reduce stress on your jaw joint
Increased chance of having your natural teeth all your life
When your teenager has lost all or most of their baby teeth, this is a great time to come in for a free orthodontic exam.  This is a good age to start treatment because Dr. Khan, our orthodontist, can take advantage of your teenager's growth to correct jaw abnormalities and help guide in any teeth that remain unerupted. Using the latest technology, we can now typically avoid more significant treatment like surgery to remove teeth.
Free initial exam
Even if you're not sure you can afford to start braces right now, you're welcome to come in for the free orthodontic evaluation. At this appointment, Dr. Khan will take a growth and development xray to see how your teen's teeth are coming in (and you can check out their wisdom teeth on this xray as well!), he will also take a series of photographs and do a thorough clinical exam to determine the treatment plan for your teenager. You are invited to come back 2 weeks later for another free consultation where Dr. Khan will review his treatment plan with you and you can ask as many questions as you like to make sure you understand how your teenager will achieve a beautiful smile. Also at this orthodontic consultation visit, Amber, our friendly and knowledgeable treatment coordinator, will spend the time with you to review treatment fees and help you come up with a payment plan that works for your budget. She has helped many families searching for Troy Ohio braces and Dayton Ohio braces to afford braces for their teenager with her flexible payment plans and willingness to spread out the cost. Just ask her!
As you're considering braces for your teenager, you can feel confident that you're not just giving them straight teeth and a beautiful smile – you're also helping to improve their health as well. Adults with straight teeth often have fewer problems with food getting caught in between their teeth – and when food catches and stays between your teeth, that's where tooth decay and gum disease can take hold. Orthodontic treatment is much more than just straightening your front teeth that show when you smile – Orthodontists spend their 2 additional years in training to learn how to move teeth so that every tooth fits into occlusion (correct bite). This means that another major benefit of completing orthodontic care for your teenager is that their teeth fit properly together, making it easier to chew and reducing additional stress on your jaw joint.
Please click schedule an appointment to request this free orthodontic evaluation visit today!
Teens can now also take advantage of Invisalign Teen, a system of clear retainers to help move teeth to their final positions. If you're looking for orthodontist Troy Oh or orthodontist Dayton Oh, just give us a call.
Related Orthodontic Articles
Clear Orthodontic Aligners
The orthodontic treatment using clear aligners consists of a series of aligners that you change about every two weeks over a course of treatment lasting six to eighteen months depending on how much movement is needed… Read Article
Clear Aligners for Teenagers
Teens who regard traditional braces as restrictive, confining, and obstructive to their lifestyles now have another choice for orthodontic treatment: clear aligners. This advanced dental technology, originally geared toward adults, has recently evolved to treat a greater variety of bite problems in younger people. These improved orthodontic appliances can help teens function normally during a difficult phase of life… Read Article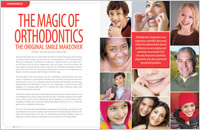 The Magic of Orthodontics
Proper alignment of the teeth is basic to "Smile Design." Their position dictates how they work together and affects the way you look and smile. Only orthodontic treatment can move teeth into the right position. Simply put, when things look right, they probably are right. Learn the basics of smile analysis and design and whether the magic of orthodontics will work for you… Read Article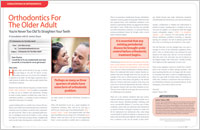 Orthodontics for the Older Adult
Healthy teeth can be moved at any age, so there's no such thing as "too old" for braces. In fact, nowadays about one out of every five orthodontic patients is an adult. Yet this figure represents only a small portion of adults who could actually benefit from orthodontic treatment… Read Article