Braces for Adults
Regain your Confidence
Braces aren't just for kids! In today's smile conscious society, the first impression we give to people we meet is our smile. A winning smile gives you a head start in developing a successful relationship- whether socially or in business.
Today if your bones and gums are healthy, I can straighten your teeth – no matter how old you are! In fact, 20% of my orthodontic practice in the Dayton Ohio area is adults. There are several reasons besides a nice smile that adults wear braces:
To reduce headaches and jaw problems
To chew better
So their teeth fit together more comfortable.
Payment Plans make it affordable
The other big reason that adults put off braces is the expense. HealthPark has a variety of ways to spread out the cost of braces over 2 years. Once your braces are removed and your teeth are straight, our dentists will follow up for many years to come. Using HealthPark's award winning preventive approach and with straight teeth, you can expect no decay, healthy gums, limited tooth wear and lower dental bills for the rest of your life.
My goal is to make orthodontics as affordable as possible for everyone in the Troy Ohio and Dayton Ohio area. To help meet this goal, I offer a free exam to everyone. Many adults would like an attractive smile, but feel they cannot afford it. No matter what type of braces or appliance you choose, we work with you to find a payment plan that fits your budget.
Braces 

Comment from Matt in Vandalia (age 37)   "Getting braces later in life can be a great experience at HealthPark Dentistry! From the friendly greeting, to their willingness to accomodate, I received efficient service and experienced very little discomfort, feeling welcome and a part of the HealthPark family is why I have been a customer for so many years!"
Related Orthodontic Articles
Clear Orthodontic Aligners
The orthodontic treatment using clear aligners consists of a series of aligners that you change about every two weeks over a course of treatment lasting six to eighteen months depending on how much movement is needed… Read Article
Clear Aligners for Teenagers
Teens who regard traditional braces as restrictive, confining, and obstructive to their lifestyles now have another choice for orthodontic treatment: clear aligners. This advanced dental technology, originally geared toward adults, has recently evolved to treat a greater variety of bite problems in younger people. These improved orthodontic appliances can help teens function normally during a difficult phase of life… Read Article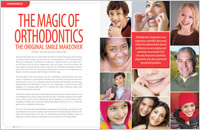 The Magic of Orthodontics
Proper alignment of the teeth is basic to "Smile Design." Their position dictates how they work together and affects the way you look and smile. Only orthodontic treatment can move teeth into the right position. Simply put, when things look right, they probably are right. Learn the basics of smile analysis and design and whether the magic of orthodontics will work for you… Read Article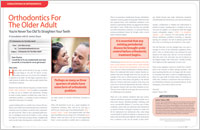 Orthodontics for the Older Adult
Healthy teeth can be moved at any age, so there's no such thing as "too old" for braces. In fact, nowadays about one out of every five orthodontic patients is an adult. Yet this figure represents only a small portion of adults who could actually benefit from orthodontic treatment… Read Article