TMJ Solutions
Stop those headaches
If you get headaches and experience jaw pain when you wake in the morning, you may have tried several medical specialists to relieve your pain with little success.
In cases where this jaw pain is caused by clenching and grinding your teeth, you'll be looking for a dentist to solve the problem. If you think you might have a problem with clenching & grinding your teeth, Dr. Smith provides a TMJ exam to help diagnose the severity of the problem for people searching for TMJ Troy Oh and TMJ Dayton Oh area.
90% of the time, he can coach you to eliminate your pain by using exercises and establishing new habits. To protect your teeth from heavy wear at night (and reduce your morning headaches!) Dr. Smith can make you a custom-fit bite splint.
Unsure if it's really TMJ?
Click on our TMJ treatment questionnaire. Dr. Smith wrote this questionnaire to help you decide if you might need him to help you. As you answer the questions, look for a pattern to your answers. Many questions will be difficult to answer – that's okay! Just leave these blank and focus on the questions that you know the answer to.
TMJ Questionnaire 
I was always fearful of dentists, but you set my fears aside. Thanks for that. You fixed my smile and added to my life. You were patient & kind. I will never forget the help that I received!
Related TMJ/TMD Articles
TMD – The Great Impostor
This "chameleon" of dental disorders manifests in a variety of ways, including joint pain, sinusitus, ear pain, tooth and headaches. The causes of TMD, its signs and symptoms and what can be done to treat this common disorder… Read Article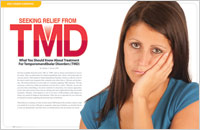 Seeking Relief From TMD
TMD, or Temporomandibular Disorders, is an umbrella term for various painful conditions that affect the jaw joints. There are different treatment approaches to TMD problems, but not all are based on science. It's important to be up on the latest information and to be an educated consumer. In this comprehensive article, Dear Doctorprovides state-of-the-art information and guidance on what you should know, whom you should see, and what you should ask… Read Article