Dentures
You have choices
Partial dentures
From less expensive plastic partial dentures to sturdy, long-lasting metal framed partial dentures, the choice is yours. Well fitting partial dentures may last 15 to even 20 years. However your body changes (have you noticed?) over 20 years and this often means your appliance will not be well supported, resulting in damaging stress on your teeth and gums that require a reline for stability. We provide care for partial denture Troy Oh and partial denture Tipp City Oh needs.
Complete dentures
We also provide complete dentures and are happy to discuss whether or not it is time to replace your existing set. Do you have a set of dentures in your drawer that just don't fit? Or, are you thinking that it's time to get your first set of dentures? Dr. Charles Smith has 40 years experience solving difficult dental problems for Troy Ohio dentures and Dayton Ohio dentures and he can help you through the learning curve to chew and smile with your new dentures.
Fixed Bridge or Implant
If you are missing only 1 or 2 teeth, you may want a fixed bridge or a dental implant, rather than a removable partial denture. We realize that the choices can be complex and confusing, that's why we offer you our written report with your dentist sitting down with you to answer your questions and help you choose the treatment that's right for you.
Dental Implants replace missing teeth
Many people get along with missing teeth or uncomfortable removable appliances, but they hate them. These problems can be solved by dental implants that look and chew like real teeth.
All in one location
There are 2 steps to having an implant – the surgery and the crown placement. We are pleased to offer both steps right here at HealthPark.
Dr. Hamal provides the surgery and Dr. Winfrey places the new tooth.
There are many benefits to having your implant placed here:
Convenience of scheduling all your appointments with one visit or phone call
The doctors work together on your case, often the dentist placing the crown will stop in and check on you during your surgical placement of the implant. For dental implants Troy Oh or dental implants Dayton Oh, we're a great solution!
Related Denture Articles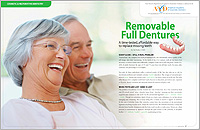 Removable Full Dentures
Complete tooth loss can cause a host of health problems, including malnutrition and bone loss. Though fixed bridgework may hold a higher place of reverence when it comes to replacing an entire set of teeth, removable full dentures can provide an elegant solution that is significantly more affordable… Read Article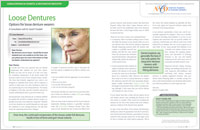 Loose Dentures
Loose dentures are a common problem for people who are full or complete denture wearers, especially if you have worn them for a long time. Whether or not new dentures are needed depends not only upon the condition of your existing dentures, but also how much the supporting tissues have changed… Read Article