Crowns & Bridges
Crown vs. Filling
When part of a tooth breaks, some dentists automatically diagnose a crown. At HealthPark we know your first thought will be a "Will a filling work so I can avoid the trouble and expense of a crown?" We'll show you an x-ray and a picture of your tooth so we can easily discuss the advantages and disadvantages of each choice.
Although fillings are usually a better choice than crowns (less expensive, conserves tooth, quicker to place), there are several advantage for tooth crowns:
The filling can break, causing you to go through another appointment and having the expense again. The larger the filling, the weaker the tooth and the greater chance the filling or tooth will break. While a crown will strengthen a weak tooth and last much longer.
It looks like a natural tooth – we match the shade to meet your satisfaction.
Although all general dentists offer fillings, crowns and bonding, another piece of our Award Winning approach is our limited 3 year warranty. We believe that any restoration we provide should last more than 3 years; if it doesn't, it will be replaced at no fee. This way we avoid, for example, the discussion between us that the failed restoration was because of something you did or something we did and who should pay for it. We all want the same thing – a trouble free restoration. In our experience, a crown that lasts 3 years will last many more in a healthy mouth.
Bonding Front Teeth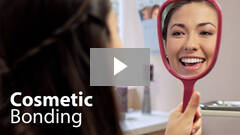 A very attractive and conservative approach to improving your smile is bonded porcelain or plastic. Only the outer 1 – .5 mm of your teeth that embarrass you are removed. Then a facing is constructed by the lab (porcelain) or by us (plastic). If we're doing porcelain, there are 2 appointments. During the first appointment the tooth is prepared and a temporary plastic facing is made. Next, after the lab makes your facing, we'll bring you back, remove your temporary plastic facings and place your new smile. Click on our brochure to learn more about cosmetic dentistry.
Related Dental Crown Articles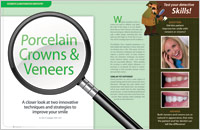 Porcelain Crowns & Veneers
A closer look at two innovative techniques and strategies to improve your smile. In many instances these two restorative techniques can produce nearly identical esthetic results, even though they are structurally different… Read Article
Value Of Quality Care
Are all crowns created equal? One of the most important factors adding to cost is the quality of the crown itself. Another fact is that dentists generally sub-contract out crown manufacturing to a dental laboratory technician, as they rarely make crowns themselves… Read Article
Creating In-Office Dental Restorations With Computers
Once upon a time, dentists – and patients – needed to wait weeks for a dental laboratory to make crowns and other dental restorations. Now, with an exciting digital technology known as Computer-Aided Design/Computer-Aided Manufacturing (CAD/CAM), some dentists are fabricating high-quality restorations themselves right in their own offices – in minutes! Read Article
Related Bridgework Articles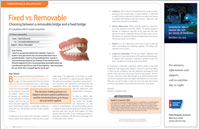 Fixed vs. Removable
For those patients who have lost all their teeth, but have not lost significant bone, a fixed bridge (permanent non-removable teeth) may be the treatment of choice since the new bridge is not needed for facial and lip support. However, not all patients are candidates for this treatment… Read Article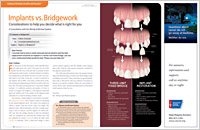 Implants vs. Bridgework
Considerations to help you decide what is right for you. However, a discussion with your dentist is necessary to discuss your specific situation. Please see your dentist to review all the risks, benefits and alternatives to determine which option is best for you… Read Article