Sedation Options
Stop your Pain
Decay in children's teeth can be a severe health problem. Just as serious is how children feel while their teeth are being treated! Our goal is to provide children a normal, healthy smile while avoiding painful, fearful dental visits that could "turn them off" from regular, future, preventive dental care. To accomplish this goal we offer several ways to help children relax during dental treatment:
Laughing Gas
Nitrous oxide (laughing gas)  – your child will wear a nose piece and breathe in a mixture of nitrous oxide and oxygen which gives them a warm, secure, floating feeling during treatment.  Nitrous oxide is very safe.  At no time will your child be breathing less than 2 ½ times the amount of oxygen in room air. With laughing gas, we can use local anesthesia with much less discomfort and your child will be less aware of time during the appointment.
The nitrous oxide sensation is gone within 5 minutes at the end of the appointment, leaving your child feeling relaxed and refreshed. Laughing gas is best for children who have minor treatment needs or older, more apprehensive children.
Related Sedation Dentistry Articles
Oral Sedation Dentistry
Step out from under the shadow of fear and into the calm of sedation dentistry. There are safe and time-tested options available to ensure that you have a positive and painless dental experience. Your apprehension and hypersensitivity to pain melt away, yet you remain awake and in control… Read Article
Overcoming Dental Fear & Anxiety
It's possible, even for those people who are the most fearful, to reduce their fear and to learn to have treatment in a way that feels calm and safe. Here's how… Read Article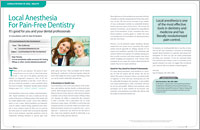 Local Anesthesia for Pain-Free Dentistry
Local anesthesia is one of the most effective tools in dentistry and medicine. It is safe, effective and has totally revolutionized pain control. Without local anesthesia, some dental procedures would be quite stressful for all involved. It's good for you and for your dental professionals… Read Article