Emergency Care
Call us 24 hours a day, 7 days a week.
We will do our best to see you within 2-4 hours.
After regular hours? Call 667-2417 and press 1.
A dentist will get back to you as soon as possible.
Get out of pain quickly
On top of our extensive hours, our dentists provide their home and cell phone numbers that you can reach in case of an after hours emergency. Just call 667-2417 after hours, and you can press 1 to either access the emergency dentist's personal phone number or just leave a message and have our dentists call you as soon as possible.
When you have a dentistry emergency during office hours, our goal is to see you within 2-4 hours. Sometimes people put off care because they are frightened of dentistry or worried about the cost of treatment. Once our dentist evaluates your problem, you will be told your treatment options – including the fee for each approach. We provide payment plans to make treatment more affordable.
Treatment plans that work for you
Some put off dental care until it becomes an emergency because they fear dental treatment. HealthPark can solve this problem for you. Please click on our brochure below. If a tooth has been knocked out, let the secretary know. We need to replace the tooth within 30 minutes for best results.
Here's a comment from a Troy, Ohio patient about her dental emergency visit:
" I have to say that I have always dreaded the dentist! HealthPark Dentistry has changed that for me. Dr. Smith is the best and the staff that I had interaction with were great! Thank you for turning a lifelong fear around for me. I have been telling everyone they need to come to HealthPark Dentistry for their dental care!  I would like to send a personal thank you to Dr. Smith and the staff of HealthPark for making my 'emergency visit' the best dental experience I have ever had. I know this sounds a little over the top, but I have been so afraid of the dentist since I was a small child. I have had several bad dental experiences and have always dreaded even exams and cleanings. That is not the case any longer. Because of your professionalism and willingness to listen to the patient, I no longer worry about or fear dental care! Thank you for the care you have extended to me and my husband (he is a patient also) we are thrilled to be patients of HealthPark!!"
Related Dental Emergencies Articles
An Introduction to Sports Injuries & Dentistry
Dental injuries incurred during sports activities are highly treatable, and can involve positive outcomes if participants act quickly to see a dentist after an injury. However, if not treated quickly these kinds of injuries can lead to discomfort, embarrassment and a lifetime of dental costs… Read Article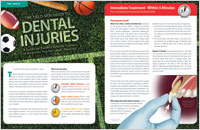 The Field-Side Guide to Dental Injuries
Accidents to the teeth, jaws and mouth can happen at any time during any sporting activity. Proper attention can save pain, alleviate anxiety and costly dental treatment. A little knowledge, as they say, can go along way. This field-side guide briefly explains some simple rules to follow when dealing with different dental injuries and when you need to see the dentist… Read Article
Athletic Mouthguards
There are times when an athlete can feel invincible… able to connect on every jump-shot, run faster and longer, or hit every pitch, but statistics show that even on their best days accidents can happen. An ounce of prevention goes a long way… For a small cost, a protective mouthguard can prevent excess anxiety, risk, injury, pain, suffering, and years of dental treatment… Read Article